July 27, 2015

"We absolutely LOVED our time at Michaels beautiful home. The house was absolutely perfect. It is in a wonderful location, easy access to cafes and stores if needed but also isolated enough (just a short walk down a pathway) so that it was tranquil and peaceful. No sounds of traffic, only the peaceful sounds of waterfalls and nature. The view was spectacular, we found ourselves not wanting to leave to face civilisation. Waking up to the jungle views was sublime, magical. This place is like a lost piece of paradise. Could not recommend this place enough!!"

"Lauren" from Australia
---
October 20, 2014

Hi Michael,

I'm writing a belated thank you for our wonderful holiday. Getting back to work deluged us and we forgot to let you know how we went.
Made and Katut were just wonderful and anticipated every need.
Such a restorative break ! and we still talk of it very fondly.
A lucky find ! we hope to be back !

Thanks again
Maura, Jaya and Carol
---
Sep 3, 2014

Dear Michael,

Just wanted to let you know how much we enjoyed our stay at Rumah Kartika Dharma. Both Made and Ketuk were great help and pampered us all. Ketuk made us breakfast every day and a few memorable dinners. She is indeed a great cook. After a full day of sightseeing we were glad to return to the comfort of the villa and the attentive staff.

The grounds of the villa and the villa itself are well kept. The view of the natural forest, waterfall and rice field from across of the villa is absolutely breathtaking.

We definitely will recommend your villa to our friends.

Thank you very much for allowing us to stay at your villa.

With kind regards,

Sincerely,

Evelyn
---
July 2014

Thanks Michael for a fabulous stay at your wonderful home. We had such a fantastic time. We loved Ubud! You have such a fabulous location. Some of our favorite things, in addition to your house: Ketud's cooking, family yoga class at Intuitive Flow, meals at Yellow Flower, hiking through rice fields and discovering Pomegranate Cafe, wandering around Ubud and enjoying all the art, watching World Cup games in the middle of the night at the open air bar down the street, trip to Batur Volcano & hot springs/Coffee Plantation/Water temple, afternoon at Elephant Sanctuary (WOW!), and massages at your house. Truly loved the Balinese people, the culture, and warm hospitality. Hope to return!

Heartfelt gratitude for sharing your special place with us,

Sally & the gang

- - - - - - - - - - - - - - - - - - - - - - - - - - - - - - - - - - - - - - -

Dear Michael,

We are having a great time at your Bali home and thank you so much for this opportunity! Made, Kutut and Wayan have been wonderful. Made is pure entertainment, Kutut feeds us with her expertise and Wayan is our driver. My darling grand daughter is with us now and we are having a terrific time together. She loves it here! I would like you to tell me exactly how much to leave for Made and want to leave more than is expected. They are precious people.

Sincerely,

Melinda
---
July 2013

We just got back to Melbourne after two weeks at your wonderful home in Bali. I just wanted you to know how much we enjoyed our time there. The house is in a great location and close enough without being too close to everything in Ubud. Made and Ketut are such wonderful, kind and generous people. Ketut is such a good cook that I managed to put weight on, whereas most people go to Asia and lose weight. Ah well, the food was too good to resist.
One of the best experiences we had was going to Made and Ketuts' daughters wedding which was such a privilege for us.

I've written a review for trip-advisor which you'll see with a rating of "excellent".

Once again, thank you so much.

Best Wishes

Jane
---
March 5th, 2013

What a blessing ... We were able to return to Michael's house in Bali for a second time and spend a few weeks.
Actually the first time we visited was in 1982.
It is as beautiful, as peaceful, as quiet as it was in 1982 and 2001.
This time we were there without teenagers.
Made and Ketut made our visit a joy. We went on to Flores afterwards and I can definitely say the best food we had in Indonesia was made by Ketut and I cook for a living so I know food.
It was wonderful to reconnect with Made, Ketut, and Pak.
Pak, Made's father brought me campaka flowers as well as gardenia flowers everyday. I love him so much.
Bali is very busy these days so the joy of returning or never leaving Rumah Kartika made our stay in Bali perfect.
The beautiful rice paddies across from the house are still green and stunning. Walking distance to dance ... And other adventures await outside the gate.
A beautiful house, caretaken by kind and helpful people... Oh I wish I was still there. Oh and Made's language lessons.... Ketuts great cooking and many kindnesses finding a tailor, Made's help with Drivers.
Made's brother Wayan is a great driver and also an excellent language instructor. I keep them in my heart.
I hope that the level of stress from tourism spares them pain. If you have any questions please feel free to contact me.
Sin Can Can..
---
Dear Michael,

We are settled into your amazing place in Ubud and couldn't be happier! I apologize for the delay. But unpacking for the first time in 5weeks put us into relax mode. Then we rented bikes and have been exploring for two days.

What a great situation. We love the location, Penestanan is great and the house is just perfect for us. Love the view and privacy, simply amazing. Food and meals have worked out great. And there is no lack of things to do both culturally and self indulgent as well.

I have paid Made for the remainder of 13 nights in total. We had planned on two weeks (checking out on the 15th) but spent an extra night exploring the island as you know. I plan to leave on the 15th as planned to visit Nusa Langbongan island where we will do some more snorkeling etc. The beaches are just too fabulous to pass up. Something we really cannot experience near home. My girls have fully embraced the beauty of snorkeling. If we simply cannot leave on the 15th…I will try my luck at contacting you to see if we may stay another couple of nights. In the meantime, please accept my thanks for such a lovely place and to the universe for keeping the developers away from the amazing hillside across from you and making it all available to us at this time!


Best,

Robin
---
We loved our experience in Bali, your home being the center of our life there. We felt very comfortable and relaxed sitting on the corridor and looking at that unforgettable view. Pak gave us a massage every other day and Ketut was willing to bring home big papayas for juice. We walked a lot and celebrated their holiday by joining the villages in Penestanan for the waving procession. We would love to go back. Madé was helpful and gentle, great company during our long drives. We thank you for the delightful opportunity to stay in your home.
---
Your house in Bali worked out great for us! It was the perfect spot to start our honeymoon. The house and grounds were just as you described. ... Ketut and Madé made us feel most welcome. Ketut's cooking was better than any of the local restaurants, too! They are very warm and friendly people...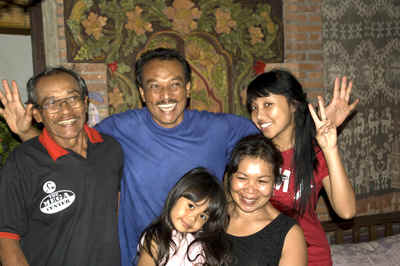 ---
Rhumah Kartika Dharma is magical! My wife and I really enjoyed our stay there....Madé and his family made us feel comfortable right from the beginning. In addition to tasty breakfasts, Ketut fixed delicious and memorable dinners for us and friends. Thanks for letting us stay at your Balanese home. We hope to be able to return soon!
---
...our stay at Rhumah Kartika Dharma was all that we expected and more...the pool is delightful, refreshing and private... Pak's smilling face, gamelan playing, and all around good vibes warmed us daily; our hikes provided extra and unexpected discoveries. We were treated like royalty. We'll be back!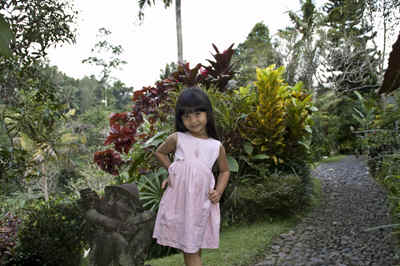 ---
Just wanted to touch base as our three weeks in your lovely house come to a close to say how much we have enjoyed our time here. The house is simple and comfortable but much of the credit for happiness goes to Made and Katut and Made's father who is quiet but a peaceful and loving presence. Made is around in a very non-obstrusive way and is always helpful and positive. He makes the house beautiful every morning with flowers and offerings and is just a delight to have around. Katut is only present for meals but is a wonderful cook and a joyful spirit.

The house is kept in pristine condition and the pool sparkles. We have been very happy and peaceful here. The internet connection via Telkomsel Flash has been just great.
-January 2008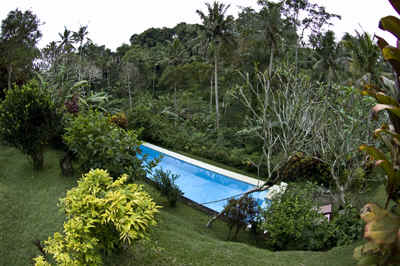 ---
Happy New Year, Michael!
I thought I would take this opportunity right at the beginning of the New Year to thank you for the wonderful stay our family had at Kartika Dharma.
The house and grounds were everything we had hoped for, and with Jen and I being only 150 metres away it all worked very well.
Our entire family wanted me to express to you how marvelous Made and Ketut are. Their friendliness, openness, honesty, good humour and respectfulness was always obvious. We thoroughly enjoyed their presence in our family. In fact, we had Ketut, Pak, Made, Kadek and Nalani [wrong spelling I'm sure] with us at the Christmas dinner, which was a real honour and privilege. Nalani and Kadek danced for us and delighted in watching the video replay later. What a beautiful Indonesian family. Ketut's warm, smiling welcome each morning got us all off to a great day. And the cooking! We were just SO well looked after in the food department. We had one evening meal before Christmas and then the Christmas feast. So much food and every morsel tasty and succulent. And Pak - what a character. He toodled around each day making sure the grounds were spot on. the way he zoomed up those slopes was amazing. We even got to meet the land owners on the last day; so we've met everyone except you; even though we feel we know you as a result of all the people who spoke of you in and around Ubud!
Michael, we sincerely hope this is not the first and last visit to your Bali home. We had a wonderful family time together which we will remember for all time. Thank you.
All the very best,
Danny, Jenny, Patrick, Andrew, Chris, Elise and Siboney.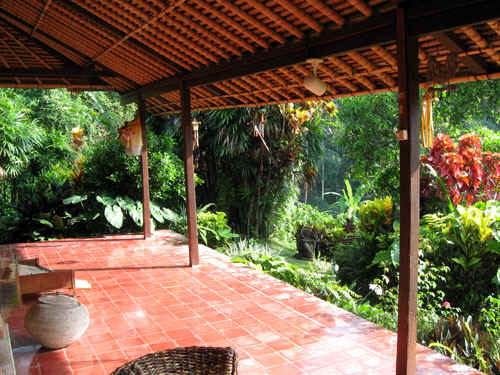 ---
Michael,
Traveling around the island the first week was the perfect way to quietly soak in the culture and pure beauty of Bali. The locals we met along our path touched my heart forever. The smiles... the pure genuine nature that bombards an "aware" foreigner's senses on a daily. The paintings! Every glance was a snapshot in my memory... filled my creative tank with juices that have not yet inhabited such spaces. My mind was in a constant creative pursuit.
After moving around for 7 days, your home was a much needed settlement. The beauty! No way I could have been warned of such... . your house is truly special. The energy, the architectural layout and open space, the location it sits beside. Heaven.
I miss it already... all of it.
(s) ….A.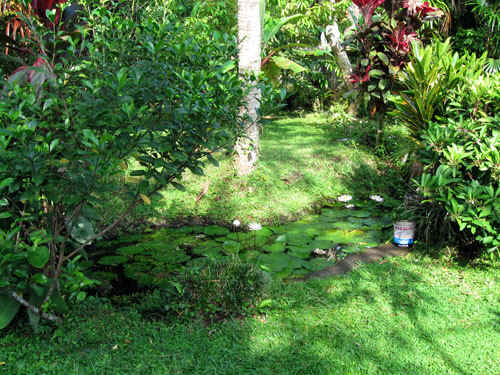 ---
Hello Michael,
We wanted to let you know that we REALLY enjoyed our time at Rhumah Kartika Dharma, the two weeks we spent there passed too quickly. The house was perfect for us, spacious and comfortable with entertainment at the door provided by the geckos, chickens and squirrels all in the lush green setting of the garden. The pool was a great oasis for us in the hot afternoons, it's so large, clean and cool. The house is located close enough to Ubud to enjoy the cafes and warungs and do some shopping but far enough away that that the noise and heat of town are quickly forgotten. We especially loved walking in the paddy fields where we found the cool breeze that blows across these open areas a relief.
Made, Pak and especially Ketut took great care of us. Ketut's cooking is truly superb. One of the things we love about visiting Bali is the food and Ketut certainly indulged us. Made keeps the house spotless and does many of the unseen chores while Pak tends the garden with love. They all contributed to making our holiday a peaceful and relaxing one.
The driver Made arranged for us was great, his English is good, he is very prompt, patient and a safe driver. Best of all he doesn't take you to shops you don't want to go to.
We have some friends that have expressed an interest in visiting Bali and will pass on the link to your web site to them with a recommendation. Ubud is a great alternative to the big city feel of the Kuta area, we are very glad we chose as we did.
We thank you for establishing such a great place. During our internet searches for accommodation none provided the peace, privacy and services that your house does. We hope that next time we visit Bali we will find your house available.
Kind regards,
Sue Sheehan & Keith Abraham
Wollongong, NSW, Australia